Philanthropy Works is a CFRE Approved Provider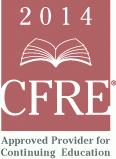 About CFRE
Founded in 2001, CFRE International is an independent nonprofit organization whose sole mission is dedicated to setting standards in philanthropy through a valid and reliable certification process for fundraising professionals.
In 2013, the CFRE credential became available worldwide as the global standard for the fundraising profession.
Learn more about CFRE here. 
Guided Learning Courses 
Participation in our Guided Learning courses are eligible for CFRE Credit.