The Starbucks Principle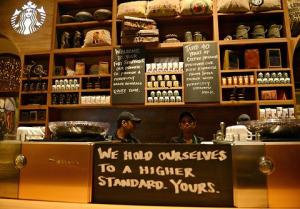 What Matters? Everything
In his book The Starbucks Experience, the author writes about the 4 principles of Starbucks. The second principle is exactly two words long:
Everything matters.
It's such a simple principle, yet it's one that has a profound impact because it applies to, well, everything.
Inside a Starbucks, you can look around and note that there is a reason for everything in the store. The ambience is intentional, the training and the quality of staff is deliberate and exceptional, and, of course, the coffee itself is not only high-quality but utterly consistent from store to store around the world. 
As with the world of coffee so is the world of major giving: everything matters. That's why, throughout Philanthropy Works -- most recently in the new course The Donor Visit -- you'll find that we place heavy emphasis on being prepared for your interactions with prospective donors, and stressing the importance of everything from having your strategies written to planning where you will park your car during a home visit.
Here are just a few of the everythings that matter:
Not only how quickly but how you thank someone after a visit. 
How thoroughly you plan your visit.  

How you communicate with your donor. Do you do your research and have different strategies for different personality types? 

How you dress and whether you know how to be formal where appropriate.

That you know what to say when a donor says something revealing, e.g., "We have been maxing out funding our retirement accounts each of the past few years" or "We are helping our parents enjoy a reasonable lifestyle."
It Matters. All of it. Especially in a world of so many choices for the donor, it's on us as gift officers to the work to be the best. The good news is that it's totally worth it.
Categories